Most Popular Baby Names Inspired by Technology
Reference website, Listophile analyzed data from the Social Security Administration (SSA) to discover the most popular tech-inspired baby names in the United States. Here, we reveal the most popular gadgets, computer programs, and tech brands that are inspiring baby names.
---
Technology has transformed our existence. Our everyday lives are dominated by smartphones, tablets, and other electronic devices. Moreover, Alpha Generation kids are being raised in a world where technology is not just integrated into everyday life, but integrated into everyday items. Today's parents are raising a generation of the savviest digital natives the world has ever seen.
In unprecedented times of rapid technological advancement, it is no surprise our choice of baby names reflects the digital age we live in. You may have read about extreme examples of tech-inspired baby names in the news: An Israeli couple named their daughter 'Like,' a couple in Egypt named their daughter 'Facebook,' while another parent named her baby 'Hashtag.' There is even a boy named 'Google' and a girl called 'Vista.'
While these names are a little too extravagant for the average American parent, there are plenty of parents in the United States who are opting for more subtle tech-inspired baby names. There is also a growing trend of newfangled parents securing their child's domain name, email addresses, and social media handles at birth.
If you're a self-confessed techie, or someone who has to buy the latest gadgets and electronics, perhaps you too might look to technology for baby-naming inspiration? If that's the case, you will likely share our affinity for these technology-inspired baby names.
The team at Listophile examined the latest official data from the SSA (released May 2022) to find the most popular tech-inspired baby names for girls and boys in the United States.
Included are a mix of names paying tribute to computer programs, programming languages, virtual assistants, and some of Silicon Valley's most successful tech powerhouses.
It's unclear if parents knowingly gave these names to their kids out of their love for the name itself or for their love of technology. Either way, these names are worth celebrating. These baby names pay tribute to our collective love of technology, past and present.
Check out the most popular tech-inspired baby names below!
Top 10 Technology-inspired Boy Names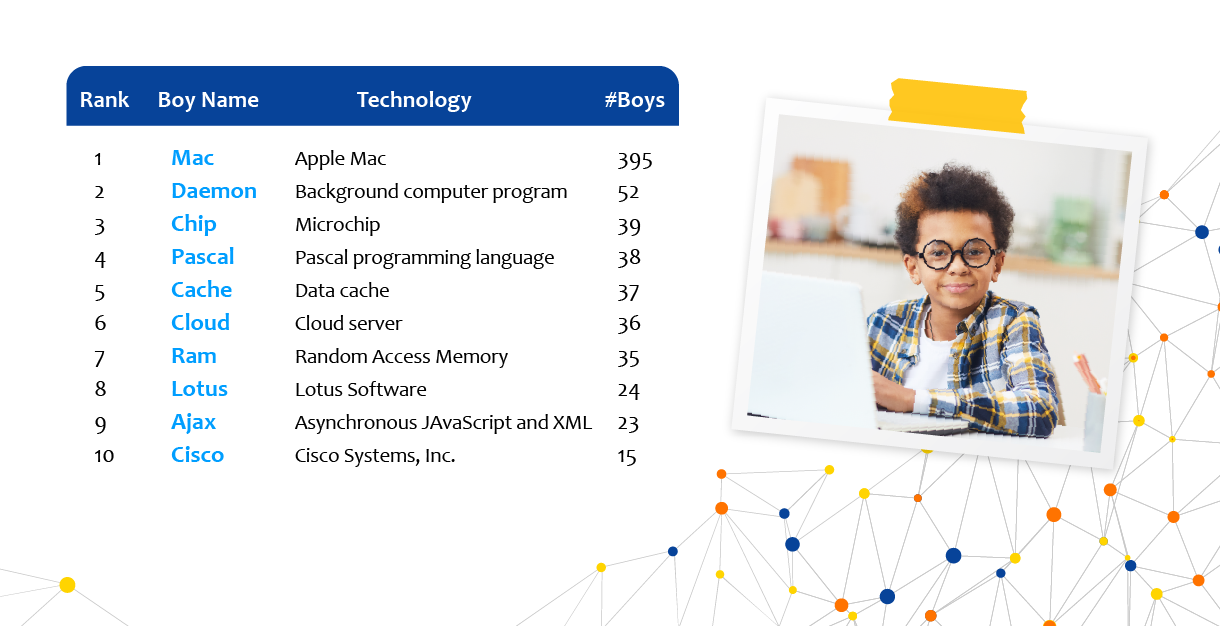 1. Mac: Apple Mac
Need we say any more than Apple Mac? Mac computers have made their mark worldwide, and 395 baby boys were given the name Mac last year. The Apple Mac surged in popularity due to its sleek design, high efficiency, and other attractive features. Macs are one of the world's most celebrated computers — and also make a great name for boys.
2. Daemon: Background computer program
Second on our baby boy's names list is Daemon, referring to a background computer program. With a whopping 52 boys being given this name last year, it's obvious how relevant this program is in the digital lives of many parents-to-be.
3. Chip: Microchip
Last year, 39 baby boys were named Chip, possibly paying tribute to microchip technology. As a unit of packaged computer circuitry constructed for computer memory and program logic, microchips play an integral part in this modern age. For those who think their sons should be celebrated with the same significance, Chip is the perfect boy's name!
4. Pascal: Pascal programming language
Next on our boy's list is Pascal, a unique French name that also pays tribute to a procedural and imperative programming language. Named after the French physicist, mathematician, and philosopher Blaise Pascal, 38 boys shared this historical name last year.
5. Cache: Data cache
Referring to data cache, this cool, punchy boy's name was given to 37 baby boys last year. Caching involves a process in which webpages are generated on demand by accessing backend databases. Caching is an integral contribution to modern technology, and the boy's name Cache feels both distinctive and unique.
6. Cloud: Cloud server
The name Cloud has recently risen to become a new and fresh tech-related name. In terms of technology, Cloud refers to cloud servers, resources delivered over a network and accessed by various users on demand. The name was given to 36 boys last year, making it a cool, yet still unique technology-inspired name.
7. Ram: Random Access Memory
Why not name your son after Random Access Memory, a computer device's hardware where the operation system, data, and application programs are kept for quick access? Since RAM is the principal memory in a computing device, this is a cool, slick, and meaningful tech name.
8. Lotus: Lotus Software
Eighth on our list is Lotus, referring to Lotus Software. Most famous for its 1-2-3 spreadsheet application, this tech-inspired name was given to 24 boys last year. This unique and memorable name will help any kid stand out from the crowd.
9. Ajax: Asynchronous JavaScript and XML
If you love originality, then you'll love the ninth name on our list, Ajax — which refers to Asynchronous JavaScript and XML. Used 23 times as a baby boy's name last year, Ajax is a tough-sounding name that refers to a selection of web development techniques.
10. Cisco: Cisco Systems, Inc.
If you're hunting for something exotic, perhaps the name Cisco will suit your soon-to-be son. Given to 15 boys last year, the name pays tribute to Cisco Systems. This multinational technology conglomerate develops and sells software and hardware amongst other high-technology products and services. Incidentally, Cisco is also used as a shortened version of the boy's name Francisco, and occasionally, San Francisco, home of Silicon Valley.
Top 10 Technology-inspired Girl Names
1. Ruby: Ruby programming language
Topping our list of girl names is Ruby, which is dedicated to the Ruby programming language. As one of the most efficient computer programming languages, it's no surprise that a whopping 3,562 baby girls were named Ruby just last year. This name also offers a sense of beauty and color when considering the famous red gemstone.
2. Alexa: Amazon's virtual assistant
While the name Alexa is associated with fears of activating Amazon's virtual assistant, this name makes a great tribute to modern technology. The name also gives a vivid sense of edgy femininity with its '-xa' ending. The name Alexa was given to 698 girls last year.
3. Lisa: Local Integrated System Architecture
While you may not see Lisa as a tech-inspired name on the surface, this name is an abbreviation of the phrase 'Local Integrated System Architecture' as well as Apple's Lisa. Lisa was a desktop computer developed by Apple and was one of the first personal computers to present a graphical user interface (GUI). Apace with Apple's surging popularity, the name Lisa was given to 245 baby girls last year.
4. Lotus: Lotus Software
The fourth name on our list is Lotus, named after the infamous Lotus Software. Lotus has become increasingly common as a name, with hundreds of parents snagging it for their children last year. The Lotus brand has since been discontinued but is remembered fondly by devoted users of this iconic eponym.
5. Perl: Perl Programming language
Fifth on our list is Perl, referring to the high-level programming language. As a family of two general-purpose, dynamic programming languages, Perl was given to 23 girls last year. It's a beautiful name for gadget geeks to pay tribute to this high-quality bit of tech.
6. Memory: Computer memory
Sixth on our list is a very unique, stand-out name: Memory. In technology, this name refers to computer memory and how your data is stored. This name is still yet to gain wide popularity; thus, it remains a unique naming choice for techie parents.
7. Apple: Apple Inc.
Seventh on our list is a self-explanatory tech-related name. Apple is a multinational technology organization specializing in software, electronics, and online services. Since taking the world by storm with its innovative technology in the mid-seventies – and more recent mind-blowing profits –the name Apple is also a baby girl's name. The moniker was given to 13 girls last year.
8. Vi: Vi Editor
Vi refers to a screen-oriented text editor initially generated for the Unix operating system. This name allows tech-loving parents to pay tribute to the digital age in a beautifully subtle way – perhaps also in the form of the long-form names, Violet or Victoria.
9. Ai: Artificial Intelligence
The ninth name on our list is Ai, referring to Artificial Intelligence. As something grabbing the attention of technology users worldwide – and developing at an unprecedented rate – it's no surprise that the name Ai is increasing in popularity as a baby girl's name.
=10. Siri: Apple's virtual assistant
The name Siri draws an apparent link to Apple's infamous virtual assistant. Again, while this name puts many people off due to its danger of activating Apple's assistant, it could allow you to make a tribute to a brand that has progressed in technology perhaps more than any other.
=10. Oracle: Oracle Corporation
Last on our girl's list is Oracle, referring to the US multinational computer technology firm Oracle Corporation. Primarily famous for being the planet's most extensive database management business, this name is sure to make any little girl stand out from the crowd. The name Oracle was given to 9 baby girls last year.
Conclusion
Now that you've read our complete list of technology-related baby names, did you gain inspiration for your baby-to-be? Would you consider naming your children after your favorite social media platform, gaming console, software, or latest gadget?
Remember, technology changes fast, which means tech-related names do become outdated. However, on the flip side – there will always be new options to choose from.
Whether you're a gadget geek or have a love for tech, we hope you've been inspired by this list of tech-related baby names!
---
Methodology
1. Listophile's report is based on the collection of given names as recorded by the SSA. This report collected datasets from the year 2021 from 3,361,375 instances of baby names. The names were ranked in order of the largest number of given names to discover the most popular technology-related baby names.
2. For the purposes of the study, names were excluded from the analysis if the connection to the technology was deemed ambiguous. For example, if the name is too commonly used, or has other associations. These names included Bay (drive bay), Oasis (TOSCA), Alpha (early test version), Linus (Torvalds, the creator of Linux), Red (Hat Linux), Lan (a local area network), Patch, Som (System on Module), Mal (ware), Matrix (multidimensional array), and Win (Microsoft Windows).
---
Author: The Listophile Team
Contact Us | About Us